Congratulations to the Pink class of 2023 for completing their version of Pink Town! Each student worked to create different vehicles and buildings in town, ranging from airplanes to delivery bicycles, shrines to banks. The students designed, cut, measured, glued, molded, and painted everything you see. Today was the day that we put everything together for our group picture and play time. We hope you enjoy!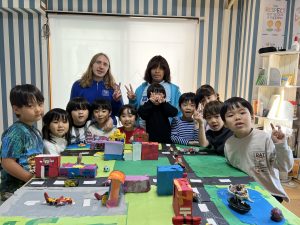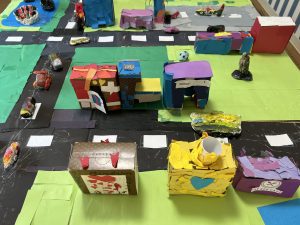 We went 🍊Orange Picking🍊 on Thursday, November 2nd. It was a lovely day. We left on a chartered bus from Koizumi Park. There is a wonderful orange farm in Isehara-city, Kanagawa. The hillside was littered with beautifully sweet and flavorful oranges. Our teachers and families got to soak up some sun, pick some oranges, and share a laugh together.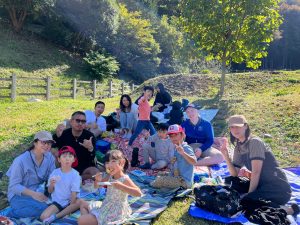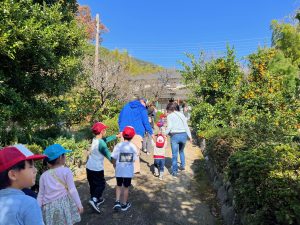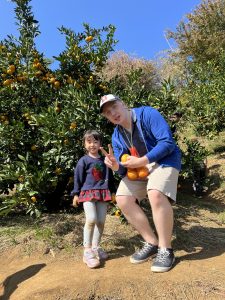 WEB site of English page opened.
EXPERIENCE A TRIAL LESSON
Please contact us by phone (0120-815-874) or email (info@hello-kids.co.jp). Together we will decide the trial lesson's date and time.

Pre-School Trial lesson (10: 00-14: 30)
* Parents or guardians may observe the lesson until 11:15. We will answer your questions during this time.
* If you wish to observe only, without your child's participation, please visit for 30 minutes from 10:30.

From 10:00 you will observe: Morning Circle time, Music and Movement, and the Main Activity related to the monthly topic.

After 11:15, your child will participate without parents in attendance. Staff will guarantee your child's safety and well-being.

Park Activities

Lunch with classmates and staff

Naptime (Blue Class only)

Snacktime

Pick-up time, 14:30. Staff will provide a written report on your child's day.
AFTERNOON TRIAL LESSON
These lessons are mainly for children aged 3~12. Trial lessons and observations are available for all 100minute, 120minute and 180minute classes. Based on your child's age and previous English experience, we will recommend a suitable class for the trial.
You will observe your child's participation in the lesson, the class atmosphere created by the teacher and other students, and of course genuine English communication.