Afternoon School (pre-school ~ elementary school ~ JH students)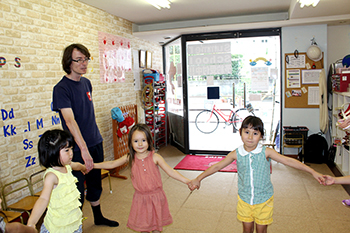 Classes are based on age and English experience. Morning preschool students' hours are extended into these classes, and preschool graduates, returnees, and those with English experience use these classes for maintaining and brushing up their language skills.
Beginners are shown how to feel success with English in an English-speaking environment. They get used to the language quickly and soon begin to enjoy using it.

We feel children should spend as much time as possible in our all-English environment. Students set a time of 100~180 mins (once a week ~ 5 times a week). Art & Crafts, Stories, Music & Movement, Games & Activities and other topics help to strengthen students' English communication skills.
Other course features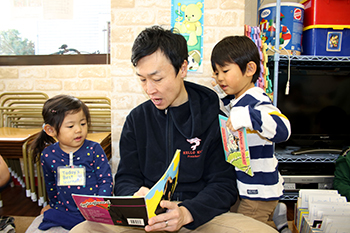 * Using an original curriculum, children are engaged in activities that have them think in English, speak in English and play in English.
* One teacher looks after a maximum of 5 children
* Each parent is provided an individual written report each day outlining their child's day.
* Extending daycare hours is possible.

Afternoon school enrolment examples
aim to place students in classes that suit their needs, experience and their availability
STUDENT A (Pre-school 2nd grade, attends swimming school once a week).
Attends Hello Kids Mon. & Wed. classes (15:00~18:00) for 2 hours from 15:00~17:00. Aiming for smooth communication in English.
STUDENT B (Pre-school final year, attends a math juku on Fridays).
Goes home after kindergarten, then joins Hello Kids Wed. class (15:00~18:00) for 2 hours from 15:00~17:00. Is home in time for dinner.
STUDENT C (Elementary school 1st grade, has piano lessons on Tues. attends juku on Wed. & Fri). wimming school once a week).
2nd grade, attends swimming school once a week).
Goes home after school, then attends Hello Kids Mon. elementary school class (15:00~17:30) for 90 mins from 16:00~17:30. He is among several students who begin their lesson at 4pm, not 3pm.